[Episode 001]
There are few things worse than awkward eye contact when boarding a plane. Once you find the only aisle seat left, you sit down only to find you have a small child next to you.  The stewardess stands to share the safety procedures reminding you that in the event of a sudden altitude change you must put your oxygen mask on before serving those in need around you.
This is the mindset we must live by each day…the oxygen mask mindset.  However, this is also one of the greatest struggles I see women (including my clients) facing.
In this episode we:
Talk about why living with oxygen mask mindset is so freakin' hard
Why being selfish is actually the most unselfish thing you can do
My 4 (plus a bonus 5th) tip you can do to start living the life you want
I'd also like to thank a special group of women who have helped inspire me, show me that strong women lift each other up and that we each are far from perfect…which is perfect in and of itself.  A special thank to one special lady who exposed me to the vocabulary of the "oxygen mask."
Ladies, you know who you are…and thank you.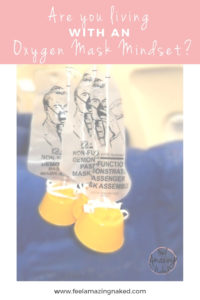 If you want to kickstart your path towards feeling amazing naked, then join my FREE 7 Day challenge.
In this challenge, I will be sending you 7 days of REAL strategies and a daily challenge that will begin to shift your mindset when it comes to food and your body.  You will also gain access to my private F.A.N. community where you will be surrounded by like-minded women who share your struggles. will be there to cheer for you and where I will be there to answer your questions.
Cheers to feeling amazing naked,
Amanda