Taking a leap from a comfortable corporate job into following your heart towards a dream business brings so many thoughts and feelings forward including fear, doubt and also excitement.
This week's client success story took that leap and in 1 year built her dream business from the ground up to making 6 figures by helping teenage athletes gain confidence. 
In this episode we dive into why mindset is so important in the journey of entrepreneurship, the highs and lows of the journey, and what she feels has contributed to her success.
Paige is a Girl Athlete Mindset Mentor who played softball practically her whole life, including playing Division 1 softball at Northwestern University.
Growing up, she lived and breathed sports!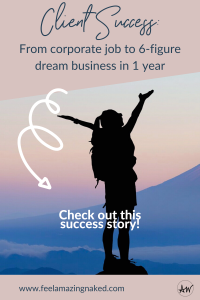 But… it wasn't always sunshine and rainbows.
She quickly learned that she hated failure.
She had really high standards for herself as an athlete growing up and even today.
At 10 years old, her heart was set on playing college softball for Arizona (plans changed for the best and she's a Northwestern Wildcat).
When she didn't meet her expectations, her dad's expectations, her coach's expectations, it was like her world was ending.
She was afraid to make mistakes.
When she failed, she believed she was a failure.
Unfortunately, she didn't have the confidence that she wanted.
She didn't trust herself.
Thank goodness for that coach that came along (a little late, but better than never) and taught her how important her mental game was and how to practice it.
So, she decided to be a Mindset Mentor because she knew in her heart and soul that girls after her NEEDED to work on their mindset in order to be successful at softball, sports, and LIFE!
Using her own experience, she has been able to help so many young athletes gain confidence in their own skills.
And added bonus…..she is living HER dream by running a successful 6-figure business within one year of leaving her corporate job and following her dream.
The skills she learned through participating in sports and recognizing the importance of mindset has helped her in adulthood to achieve her own success by building her dream business from the ground up.
We talk about finding our passions, pursuing our dreams, and using our own messy lives as our message to help others.
Be sure to check out this week's episode on her success story of building confidence to pursue her own dreams!
Paige is also a repeat guest on the show where we previously talked about how to raise a self-confident daughter into a self-confident woman. Check out that episode here!
To learn more about Paige and the work she does for girl athletes, check out her website and you can also find her on Instagram, Facebook, and TikTok @paigetonz