In this episode, I share an amazing client case study from a client who turned her success into supporting other women's success.  It happens often that we experience such a deep change in our own lives that we can't help but want to share it with others. My amazing client Mindy shares where she began in her coaching journey with me AND where she is now.
Here's a quick look at the episode:
Mindy came to when she was feeling completely overwhelmed in her own life.  Through her work with me in the program, she is now helping women overcome overwhelm themselves.
The greatest teaching moments come from the things we have experienced ourselves.
This is how we humanize coaching.
Working on your mindset is KEY!
Mindy shares her insights into how mindset work can be a GAME-CHANGER!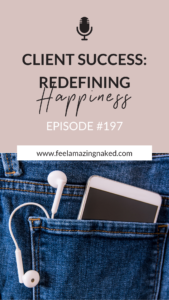 Mindy was hesitant to spend the money on herself since she had already thrown thousands at weight-loss programs, so she worked through her money stuff and we agreed to have her try this for 3 months.
Her turning point came when her husband noticed, "you seem happier."
Mindy was amazed that her husband noticed that she was happier and her mindset was better, so that made her commit to the work.  The ROI was there!
After seeing how transformative coaching was in her own life, she started her own business to help women overcome the overwhelm that she herself had experienced.
It was a whole new way of living that opened her eyes!
If you have been on the fence about the power of mindset and coaching, be sure to check out this week's episode!
For my newest freebie, 10 Powerful Questions Every Coach Should know, click here! 
Click here to listen to the full episode.
If you have a few minutes, I'd love for you to rate and review the podcast.  You can click here to get to Apple Podcasts to leave your review. I will be oh-so grateful to you. Plus, we are adding amazing episodes to the show, so when you subscribe you won't miss a beat.
Interested in working with Amanda or learning more about her programs?  Click here to book a time to chat.