In this episode, I rewind back to my first year and share the 10 things I wish I knew then that I've now figured out along the way to pass on to you.
Something I always tell my clients is that becoming an entrepreneur was and is the biggest personal development journey I never knew I needed. It brings out all your insecurities and doubts…even on a daily basis.
When I started my business, I knew nothing. Zero. NO Business knowledge or business degree. SO I want to show you that you can do it too. I just knew my life needed something more.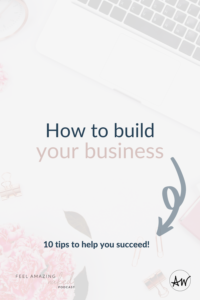 My journey to FEELING AMAZING started 7 years ago when I was working as a teacher earning $600 paychecks every two weeks. 
I remember back then, gazing at my husband with tired eyes, mumbling "this can't be it."
Everything felt chronically average – same wakeup time every day, same traffic on the drive home, same baked potato and chicken for dinner because it was the only thing I wasn't too exhausted to make.
I knew that the "more" I craved in life wasn't going to just magically appear, so I took empowered action to make a real change. 
So, I left my job and started my own coaching practice. I'd be lying if I said it was easy. But while it wasn't without challenge, it was ultimately much more fulfilling than my previous career and sad nightly baked potato. 
I want to share my mistakes so you can get there faster.
My clients are hitting 6 figures way faster than I did because I can help nudge them in the right direction.
Get really clear from day 1—what is the problem you are solving? Know your client and know their language—not yours. Get out of what sounds fancy and know the exact words your people are saying.

Business needs to make money. Don't be ashamed that you want to make money.  Or hide behind that.

Don't keep chasing the next best thing—it's about consistency!!!

You do NOT need a huge social following.

Don't look around—stay in your lane.

Listen to YOUR GUT. I don't have a business degree but I have a heart. The "feel amazing" method—your intuition is clear and your ego is cloudy. It needs to be a HELL YES…other's recipe for success will not be your own. Take guidance and then check in on yourself. Give 80%-100% of the time.

Be authentic—it doesn't have to be perfectly curated.

Perfectionism is your ENEMY.  It's like the supervillain.

Trust the process…keep taking action. 1% every day. Don't compare your beginning to somebody else's middle or end. There is no overnight success!

Invest in a coach.

Join me on Fridays for the First Friday Business Connect so you can learn amazing tips like this for your own business!  Visit here for more information on how to participate.
.