As the door to 2020 closes, it's an opportunity to create space for reflection and celebration. As that door closes, it opens up the chance to think bigger and dream about 2021 and beyond. 
In this week's episode, my husband and I reflect on our 2020 and share what we are thinking about for 2021. 
As you set intention for 2021, what do you most desire?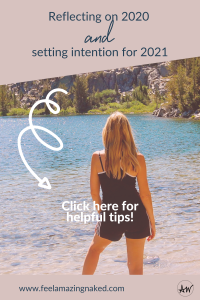 If health is on your intention lists for 2021, you will want to check out my FREE workshop called "3 Reasons You Aren't Seeing Results in Your Body"
It's the perfect way to kickstart 2021 as you focus on what you hope to accomplish with your health this year.
Be sure to save your spot here: www.feelamazingnaked.com/workshop
Setting intentions for the new year always involves a reflection of the year before. And 2020 was a doozy for all of us.
But, there were many things that stood out to my husband and myself about the year and things we learned from the experience.
Namely, that life is like the game Pong.
What?!?!
Think about it…
It's always moving and here we are running behind all sides to keep the ball in constant motion so it doesn't shatter.
Justin, my smart and clever husband, made that analogy on this week's episode of the podcast.
We share a candid convo about what we learned in 2020. We also share what we feel we did great at.  Then we dive into what we are working on doing better in 2021.
We also walk you through the reflection and intention setting practice we did as a family that you can still do right now.
Finishing out the episode, we discuss a powerful question I've been asking myself a lot lately.  This question helps me let go of feeling like I need to do all the things. It allows me to instead focus on the things that will push me close to everything I want.
Can I also share a secret…we have a really big dream we are talking more and more about of bringing his experience as a police officer and my work as a coach…together.
It just might be part of our 2022.