No doubt the pandemic has highly impacted job security and satisfaction. The last few years have opened up new ways of thinking, new ways of communicating and have also increased the demand for life satisfaction.
From my perspective, there has never been a better time to lean into the calling of coaching, consulting or specializing in an area of expertise by using the online space.  In this episode, I share 5 Reasons To Become A Coach/Consultant/Specialist…NOW.
The pandemic and several other factors over the years have led to more and more people quitting their jobs due to one main reason: BURNOUT
According to the U.S. Bureau of Labor Statistics, 4 million Americans quit their jobs in July of 2021. Wow! This is credited to burnout. Several articles I found online also cited that nearly 40% of all Americans are burnt out and are leaving or thinking about leaving their jobs.
NOW IS THE TIME you could help those who are burnt out to find their WHY and help them get to the root cause of their burnout.
There are so many types of coaches. If that word doesn't resonate with you, you can also consider the terms consultant, specialist, mentor, guide, or another word that feels right to you.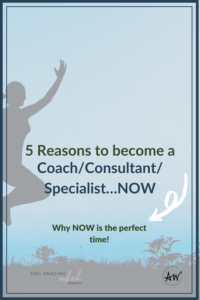 Here are the 5 reasons why now is an amazing time to step into online coaching or consulting:
There is never a right time—if it's on your heart what would happen if you just jump?  What would next year look like if you were producing your own income, creating your own schedule?

The barrier of entry is so LOW

The world has opened itself up to the flexibility of an online experience

You've been sitting with this feeling for a while that you have an amazing way of guiding people. You feel you have a skill set that you know you can offer people

Affinity for people and feel full of purpose watching others have success
And then, of course, there are always the reasons NOT to do something. The thing I have seen as the #1 reason people don't become coaches is MONEY
And to that, I say…
If you lead from a place of scarcity, you will fall short.  But passion will carry you through the tough times, the ups and downs.
So, what are you waiting for?!?
Check out this week's episode:
Are you ready to take your idea and build a profitable business, but have no idea where to start?  Our next cohort of the Feel Amazing Naked Business Accelerator starts NOW.  For more details, visit: www.amanda-walker.com/business/