Tis' the season for…the complete temptation to fall into all-or-nothing thinking!  I am here for you ladies!  As we gear up for the increased pace of the holiday season, more social gatherings, and more opportunity to allow yourself to fall to the bottom of your to-do list…this episode is for you as I am sharing 5 Tips To Avoid All or Nothing Thinking During The Holidays.
We've all been there….
The holidays approach and our routines go out the window.
We prioritize everyone else's needs. We let our "cheat days" become more frequent.
Consequently, we give in to the all or nothing mentality.
What if I told you there is a better way?!
This  week  on  the  episode,  I break  down  5 tips  you  can  use  to  overcome  the  all  or  nothing  thinking  that  is  tied  to  the  holiday  season.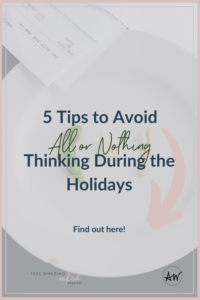 Here's a preview:
Focus on maintaining small routines

Be proactive

Be aware of your thoughts

Give yourself permission to enjoy and set pre-intention about how much

Big picture:  focus on your efforts all year long.
Tune in to this week's episode as I break these tips down even further to give you actionable steps you can take to make this your best holiday season yet!
You can also watch the episode here:
I'd love to hear your success stories about how you overcame all or nothing thinking during your holiday!  Be sure to share on social media and tag me @awalkmyway