Save your seat in my "Why Diets Die and Habits Live" workshop happening on June 29th, 2019 here.
Finding the balance in our worth being found in aesthetics and body image versus health is a struggle.
The real enemy is the culture that surrounds us.
Culture has created the values, thoughts, and feelings we have about ourselves.
This week's guest and I chat about all things body kindness, image, and compassion.
My guest this week is Rebecca Scritchfield who is a well-being coach, registered dietitian nutritionist, ACSM certified exercise physiologist, and author of the book, Body Kindness: Transform your health from the inside out and never say diet again (Workman Publishing).
Through her weight-inclusive Body Kindness counseling practice, Rebecca helps people reject diets and body shame to create a better life with workable, interesting self-care goals to fit individual's needs and preferences, not society's unrealistic weight and beauty standards.
Rebecca has influenced millions through her writing, podcast, workshops, and appearances in over 100 media outlets including NBC Nightly News, CNN, the TODAY show, O Magazine, Real Simple, Time, and many others. Rebecca is a freelance writer for The Washington Post and Self magazine, an advisor to Health Magazine (2019) and Diversify Dietetics and a mom of two young girls. She lives in Washington, D.C., where she was recognized as one of ten "Supermom" entrepreneurs in the Nation's Capital.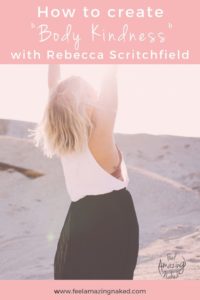 In this episode we dive into:
The familiar chronic dieting roller coaster to be "healthy"
Why culture is the enemy of negative self-worth
Why physical health is not tied to a number
Feel the feels to spiral up in emotion and better naked
How we take care of our self in one season looks different than how I will take care of myself in another season in my life
What Body Kindness is and the 3 pillars that build it
The phrase that is powerful to help you thrive
How powerful the word "yet" is to the growth mindset
I WOULD SO APPRECIATE IF YOU WOULD LEAVE ME A REVIEW AND SUBSCRIBE
Have you subscribed to my podcast? If not, I would so appreciate if you would do that today. I don't want you to miss an episode. Click here to subscribe in iTunes!
If this episode really spoke to you,  I would be grateful if you left me a review over on iTunes, too. Those reviews help other people find my podcast and support other women to create their best life!  Thank you for sharing in advance!
In amazingness,
Amanda