In this week's episode, I am chatting with my guest Tiffany Neuman on how to build your own legacy brand. She shares so many helpful tips, so be sure to check out this week's episode!
Tiffany Neuman is a visionary branding strategist who helps mission-driven entrepreneurs and influencers up-level their businesses. After 15 years in the corporate world, working with brands like FedEx, Stoli Vodka and Burt's Bees, she left to establish a revolutionary branding business that stays one step ahead of trends. Tiffany now works with clients across the globe to help them 10x their sales and shine even brighter in their niches.
So what exactly is a "legacy brand?"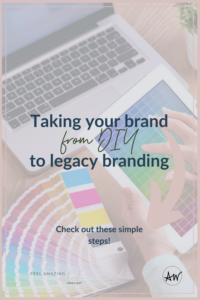 Tiffany breaks it down and shows us how to make our own brand a legacy brand that will last.
Most entrepreneurs "build the plane while they're flying it". They create their brand unconsciously and DIY it as they go. Over time though, to build a brand that withstands the test of time and one that creates a legacy, it requires something different.
Tiffany is the brand strategist that helped me take a HUGE leap to up-level my brand.  Additionally, she helped me build a cohesive look and feel to the branches of my business.  We talk about what's most important when starting a business and how to grow and develop your brand over time.
Creating a cohesive, legacy brand can feel overwhelming.  Tiffany works to break it down with manageable steps to get to the place where your brand will leave a lasting impression on clients.
Tune in this week as Tiffany shares all her tips and tricks for creating a legacy brand that aligns with your company's mission, values, and vision.
And if you had any ah-ha moments while listening to this episode, be sure to share with me!
Catch this week's episode here:

Connect with Tiffany on all the platforms:
www.instagram.com/tiffanyneumancreative
www.linkedin.com/in/tiffanyneuman