In this week's episode my amazing client shares how much her life and mind has shifted since our work together.  She also shares how all she used to want was to be skinny but now…all she wants is to be strong and well fed.
Like so many of my clients, this week's guest began her journey with goals of losing weight and getting "toned."  What she got was so much more.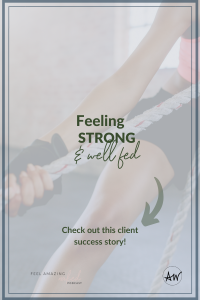 During our work together I came to discover that she was filled with misguided beliefs including:
Carbs will make her fat.

She had to eat less to get where she wants in her body.

Lifting will make her bulky and cardio is the only way to get "toned."

The scale will be her only way to confirm her progress.

There will always be guilt eating food she enjoys.
Fast forward to now.
She's eating almost double the amount of carbs now then when we began our work together nearly 6 months ago.

Consumption of calories is now almost 300–400+ calories more than when we began working together.

She is lifting 2-3 sessions per week and doing LESS cardio (and more resting in general).

The scale is neutralized and she has leaned into how she wants to FEEL–well fed and STRONG.

She can enjoy the things she loves guilt free.
Most of all, what I love is that now she has the inner peace, happiness and confidence she didn't know she wanted.
That is priceless.
When you let go of the stories you've been telling yourself and misguided beliefs and hype from diet culture…so much growth can happen inside and outside.
The Feel Amazing Naked program isn't just about weight loss.  It's about FREEDOM…freedom to escape the stories we've been telling ourselves for years and step into what is real and true.