A client success story is always my favorite and I hope this one resonates with you as well.
I love when clients open up about their journey and I can see the joy on their faces as they share the growth they have experienced.
In this week's episode, I share a client success story that captures Joanna's journey from insecurity to confidence as a wife and soon to be mom. 
"Nothing is more beautiful than a confident woman who doesn't pretend to be something she's not."
She shares very vulnerable thoughts about marriage that many women are afraid to say out loud. We discuss how she has overcome them to feel confident in her life.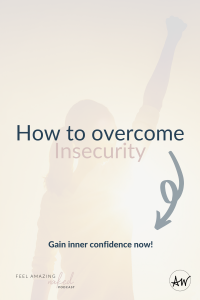 This week I am highlighting a client who is so freakin' vulnerable and I know her story will hit home for you.
She shares how she came to me craving CONFIDENCE in herself.
All she wanted was to be free of judgment of herself and others.
She wanted to be more connected to her husband and so present during their most intimate moments (not trapped in her mind).
She shares that she just wanted to feel comfortable in her own skin.
And NOW…she does. 
In full transparency though, this is a life-long journey that will never end for any of us.
Her story though and how she got there…has nothing to do with weight loss or eating balanced plates.
She shares how this amazing shift in her life she has experienced all began and ended in her mind.
Mindset is more powerful than we realize and Joanna shares her tips on how to use your mindset to help achieve the inner confidence you crave and overcome the insecurities that can take up so much space in your mind.
Check out this week's episode if learning how to master your thoughts is something that resonates with you.