Today's topic is one that I help women overcome frequently and that is overwhelm. 
The more I speak about this subject, the more women message me and comment on social media, saying, "Yes! This is where I am. I feel paralyzed and overwhelmed by where to start with my health, and I feel overwhelmed on a daily basis with my life in general."
For that reason, I am creating a workshop just to help you overcome the overwhelm in your life. 
If you go to Feel Amazing Naked, you can choose from one of 3 times to attend. Grab your seat now and let me show you how to overcome overwhelm by taking 2 simple steps. 
In today's episode, I am featuring another client success story who shares her unique story about her growth over the past year of working with me. 
Kayla began working with me right out of grad school and every time we talk, all I can think is how if I had found a mentor, someone to kick my butt into gear in my mid-twenties, how much further along in my life would I be at this point? 
A Mindset Shift Around Food
When Kayla came to me, she was wanting to get her nutrition under control but she wisely realized that the real issue was time management. So, she signed up for a free time management seminar I was offering. 
But at the last minute, she couldn't make the seminar. She ended up watching a replay, then taking advantage of a free 30-minute consultation I offered. At the end of that consultation, Kayla knew that she wanted to work with me to really tighten up her mindset around food first, and then other things.
Kayla's goal was to track her macros and, in her words, "finally get skinny." 
After more than a year, she now sees that food was never the issue. She had periods of being very successful with food and periods of being less successful, but those times don't define where she is now. 
It was 100% mindset.
Kayla thought that losing weight would address the sadness and loneliness she felt. And she found out rather quickly that it didn't. 
She now has no desire to count calories or track macros anymore because those things lead to her feeling empty. They don't bring fulfillment. 
Kayla's body hasn't changed all that much in the past year; what has changed is how she feels about herself. Her confidence has soared and she feels happy and fulfilled.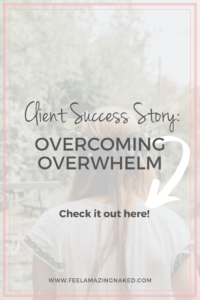 Dealing with the Hard Things
Sometimes when we hear somebody share their story of overcoming, we can miss the hard things they deal with along the way. And Kayla has had her share of hard things.
Before we started working together, she had a habit of trying to skirt around the difficulties instead of facing them head-on. She felt overwhelmed a lot of times, and instead of battling through the resistance, she too often let it win. 
Her self-awareness has increased to the point that instead of living in denial and taking the easy road when obstacles present themselves, she can name the obstacle and know that she can get through whatever it is. 
Habits of Planning
So, what changed in Kayla's life to help her stop using those unhelpful coping mechanisms of denial and giving in, and start facing challenges head-on? 
She learned how to attack the hard things first. 
Learning how to plan her week, and specifically her meals for the week, has changed everything for Kayla. She knows that waiting until she's in the moment will mean poor decisions, so planning things out on her weekly grounding day has become a non-negotiable for her. 
Kayla had gotten to a point of not being able to make any decisions because of the extreme overwhelm she felt on a daily basis. But no more.
Now, she does still feel overwhelmed at times, but the difference is that it no longer rules her life. She has tools to deal with the problems she faces that she didn't have before.
Releasing Control
One area where Kayla really struggles is in feeling like she needs total control over everything she does. And she's had to let go of some of that.
If you've ever listened to this podcast, you know I am a strong proponent of ditching the "all or nothing" lifestyle and thought pattern. All or nothing gets you nowhere. And fast.
Kayla no longer feels like everything has to be perfect. I often tell my clients that, "done is better than perfect," and Kayla repeats that to herself on a regular basis. 
Even today, her life isn't going exactly the way she wants it to, but she refuses to feel overwhelmed by trying to control every little piece of that. She has learned to let go and to be at peace with not controlling everything. 
Growing in Self-Confidence
One of my favorite things to watch in my clients is the way their self-confidence grows as we work together. Kayla says her self-confidence has grown "tremendously" over the past year. 
She has identified that she always cared too much what others thought of her, and that lowered her self-confidence. It has caused her a lot of sadness. 
She also had never really stepped out of her comfort zone. Because she always felt so overwhelmed and was afraid of meeting any obstacles or challenges, she played it safe. Always. 
Now, she steps out of her comfort zone on a regular basis. 
She still doesn't love it, but she realizes that when she's living in that comfort zone, she is not satisfied. And that's worse than taking the risk of stepping outside it.
Kayla has actually started realizing that she holds herself back. She has great talents and gifts to offer the world and by holding herself back, the world misses out on those gifts. 
Kayla learned through our working together that a lot of her thoughts about herself were simply not true. Thoughts that she wasn't as smart or as worthy as somebody else. 
She let those thoughts hold her back for far too long. Now, she is putting herself out there and whatever other people think, they think. Kayla can't control it. 
She is taking control of her thoughts about herself, and while she came to me for help with food, the food ended up being the last thing she needed to get under control. 
If you want to change your physical self, it starts with your inner self. 
There may be many layers of this onion that you have to peel back before you get to all the root causes. If you don't know where to start, I am here to help.
XO,
Amanda
Thank you for listening and reading lovely! How can you support this podcast?
Apple users, please

subscribe and review our show

on

Apple Podcasts

, we make sure to read them all. Android users, be sure to

subscribe

to our show on

Stitcher

. As a subscriber, you will get a notification each week a new episode drops! (man I love saying, "Drops").

Tell a friend

about The Feel Amazing Naked Podcast…they will love you for it! T

Join the Feel Amazing Naked Community (FREE)

.

I am in here LIVE each week sharing tips, cooking and talking all things confidence and growth.

Follow me

on my favorite social media platform,

Instagram

.
Share using the buttons above and don't forget to tag me (@awalkmyway and @feelamazingnaked) when you do!