Have you found yourself needing to take back your health and lose some weight but unable to exercise? Today's guest on the podcast found herself in exactly that place and she is kicking some butt anyway. 
I believe there's nothing more powerful than hearing a woman tell her own transformation story and that's exactly what we're doing today on the podcast. 
It takes a lot of guts for a woman to share where she was struggling and how she overcame those struggles to get to where she is today. 
Every month, I am going to be sharing a bonus episode where one of my clients shares her successes and what it took to get her there. Each lady has a unique perspective which will encourage you that there is somebody else like you out there. And if she can do it, so can you.
Is Exercise the Only Way to Lose Weight?
So many people believe that hours of working out is the only way to lose weight. That, however, is not true. 
My client, Michelle, came to me with a unique situation: due to some health concerns, she wasn't able to work out the way she would have liked. But she decided that this wasn't going to stop her from healing her body.
So, we decided to focus on food that would help her heal and not on exercise. 
Slowly, Michelle began to see her body transforming before her very eyes. And not only was the weight going down, but her pain and swelling were lessening every day. 
Struggling with rheumatoid arthritis meant that Michelle couldn't control whether or not she could move pain-free, but what she could control was what went on her plate. And that small amount of control changed everything for her.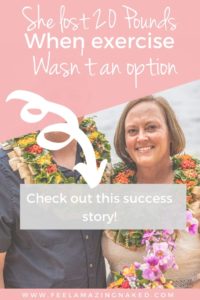 Getting the Mindset Right
The most important part of any weight loss journey is the mindset component. If you can't exercise and you're in pain from a chronic illness, how can you be successful?
By getting your mindset right.
Michelle had so many setbacks brought on by her disease while we were working together in those first few months. As soon as she would start to feel better, her back would go out or she would experience a setback in another area.
It was crucial that she stay strong mentally and continue to work on her mindset so that these setbacks wouldn't ruin all of the progress she had made. 
If you're struggling with an injury or an illness that keeps you from moving your body in a way that leads to weight loss, it doesn't mean you can't be successful. But your mental game has to be strong. 
Emotional Health
As women, it is so damn hard to give ourselves credit for the things we do right. Michelle could never take compliments or talk about herself in a positive way.
And now, she says, "It's hard to hear you say these nice things about me but I want to get back on that train and say, 'Damn right, I freaking deserve this. I worked hard for it.'"
The thing is, in order for the entire energetic exchange to happen – in other words, for you to be able to give to others – you have to be able to receive. 
Michelle has worked very hard to accept herself for who she is and to be okay with it. She is no longer embarrassed or ashamed of who she is. She is more in control of her emotions and takes pride in the person she is.
Growing in Confidence
While Michelle has lost 16 lbs off her body, it's her growth in confidence that I am most proud of. 
She feels more in control of herself and now has a stronger belief in herself and what she is capable of. She is understanding that she doesn't have to have an "all or nothing" mindset. 
She always believed that unless she could put 100% percent of her focus on dieting and exercise, she couldn't lose weight. And now, after a little over 3 months of intentional eating, she is down 16 lbs. 
Growing in confidence requires building new habits and changing the way you do things. If you want a different outcome, you have to do different things.
I always say, eat the way you want to feel. So, if you want to feel more vibrant and more confident, choose the foods that make you feel that way. 
Do You Need a Coach?
Are you feeling like you need some help in your own health journey but you're afraid to take the next step? Do you need someone to come alongside you who will help you find your way but you don't know where to start?
Michelle's advice is, "Do it. Invest in yourself. You can't be there for everyone else if you can't be there for yourself first."
If you're on the fence about getting help, what are you waiting for? As Michelle, said, "Investing in yourself is the biggest compliment you could ever give yourself."
It can be scary to take the leap and spend the time and money necessary to get help. But what is the alternative? Staying where you are? Once you invest in yourself and make the decision to continue to do so, you begin to see the rewards and reap the benefits.
Resources Mentioned:
XO,
Amanda
Thank you for listening and reading lovely! How can you support this podcast?
Apple users, please subscribe and review our show on Apple Podcasts, we make sure to read them all. Android users, be sure to subscribe to our show on Stitcher. As a subscriber, you will get a notification each week a new episode drops! (man I love saying, "Drops").
Tell a friend about The Feel Amazing Naked Podcast…they will love you for it! T
Join the Feel Amazing Naked Community (FREE). I am in here LIVE each week sharing tips, cooking and talking all things confidence and growth.
Follow me on my favorite social media platform, Instagram.
Share using the buttons above and don't forget to tag me (@awalkmyway and @feelamazingnaked) when you do!