Bringing you another client success story because they are so DANG motivating!
We've been conditioned to believe that living in a healthy body is HARD.
The change is HARD.
That eating healthy is HARD.
That forming new habits is HARD.
That loving your body is HARD.
What if it was actually EASY?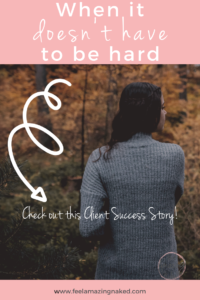 In this episode we dive into:
How changing your mindset about what HARD can drastically improve outcome.
The pressure of perfection regarding motherhood and why it traps you
Why her self awareness has drastically grown
There may be many layers of this onion that you have to peel back before you get to all the root causes. If you don't know where to start, I am here to help.
XO,
Amanda
Thank you for listening and reading lovely! How can you support this podcast?
1Apple users, please subscribe and review our show on Apple Podcasts, we make sure to read them all. Android users, be sure to subscribe to our show on Stitcher. As a subscriber, you will get a notification each week a new episode drops! (man I love saying, "Drops").
Tell a friend about The Feel Amazing Naked Podcast…they will love you for it! T
Join the Feel Amazing Naked Community (FREE). I am in here LIVE each week sharing tips, cooking and talking all things confidence and growth.
Follow me on my favorite social media platform, Instagram.
Share using the buttons above and don't forget to tag me (@awalkmyway and @feelamazingnaked) when you do!