[Episode 025]
I struggled with being obsessed with clean eating early on my food journey.  I was the "cleanest" eater but didn't understand why I wasn't seeing the physical transformation I expected to come along with it.
That's because I didn't understand that while I was doing great work on food quality I need to adjust food quantity.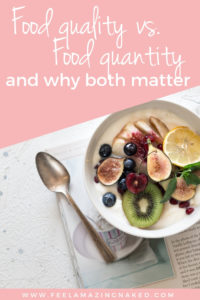 In this episode we dive into:
Why your body doesn't understand the difference between a "clean" treat and a Snickers bar on a macronutrient level.
If you are working on your "food" start with quality and the quantity will come alongside it.
Why you can still have too much of a "good" thing and not see physical changes.
Why being intentional can actually bring the change you are after.
The body is an energy system that needs to be nurtured in a way that works for YOUR lifestyle.
When you use weightloss strategies that are restrictive and fear-based, they just don't simply stick.
LEAVE ME A REVIEW AND SUBSCRIBE
Have you subscribed to my podcast? If not, I would so appreciate if you would do that today. I don't want you to miss an episode. Click here to subscribe in iTunes!
If this episode really spoke to you,  I would be grateful if you left me a review over on iTunes, too. Those reviews help other people find my podcast and support other women to create their best life!  Thank you for sharing in advance!
In amazingness,
Amanda