When this episode publishes, we are in the first few weeks of spring here in the United States. The days are warmer, the sun is shining, and we long to spend more time outdoors. 
But with increased outdoor time comes increased time in the sun, and we all know that we need to take extra care of our skin when we are exposed to the sun's rays for longer periods of time. 
So while I don't typically talk about things like skincare on this podcast, I think it's important to not only consider what we put in our bodies but also what we put on our bodies. 
So, I asked my friend and colleague, Daniela Woerner, to come on and talk about this topic.
Daniela is a spa marketing and retail sales strategist for aestheticians. She is also the host of the iTunes top 100 podcast, Spa Marketing Made Easy. 
During her 13 years in the industry, Daniela has worked with some of the top dermatologists in the field; consulted with global physician-dispensed skincare brands; contributed her expertise to the branding and positioning of major product launches; spoken to and trained hundreds of spa employees on retail sales; and developed educational training programs for aestheticians in 82 countries worldwide.
What Gives You Self-Confidence?
I have to be transparent with my listeners here; when I first met Daniela, I was spouting off about how I didn't feel the need to use certain procedures to fight again, that I felt perfectly confident in myself and didn't need those things. 
And Daniela wasted no time in kindly letting me know that while it was great that I felt confident in not using those procedures, I needed to set my judgment aside for the women who used those very procedures to gain self-confidence. 
We all have our own version of what makes us feel beautiful. Maybe you like to dye your hair bright colors, maybe you wear lash extensions, or maybe you like to look muscular instead of thin. 
Daniela's question for her clients is always, "What makes you look and feel the best version of yourself?"
Instead of judging others for what makes them confident, we need to allow them those things because when we have that self-confidence, we stand taller, we go after what we want, and we go after our dreams. 
My question to you would be: 
Are you doing the things you do to fit what society sees as the norm? Or are you doing the things you enjoy and that make you feel more confident?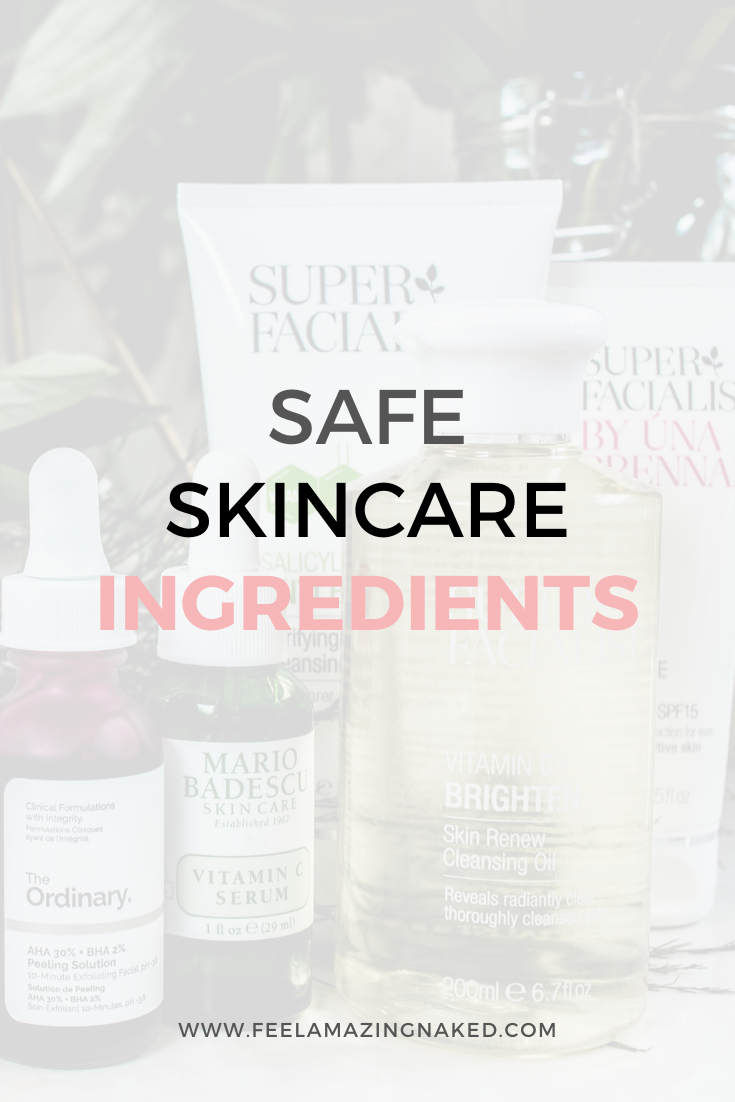 Evidence-Based Products
One of the things that is so important to me when working with clients is to leave behind the programs that promise results based on a one-size-fits-all formula and to figure out what works for each individual. 
I want to offer women help that has evidence to back it up. 
This evidence-based approach is one that Daniela uses when approaching skin care, as well. She actually uses a 4-part approach to skincare, called GRASS.
G – Growth factors – Think of a child falling down and cutting their knee. Their knee heals quickly because their body's growth factors are hard at work. 
But if your Grandma fell down and got that exact same cut, it would take weeks for her to heal. As we age, our body's ability to heal itself diminishes due to a decrease in our growth factor. 
Applying growth factors to our skin tricks the skin into healing the lines, scars, and wrinkles that our body is no longer healing. 
R – Retinoids – Retinoids are something we are probably all familiar with through advertisements. Retinoids are Vitamin A. 
Retinoids increase cellular turnover and strengthen the cellular walls. They are one of the best anti-aging products available. 
The mistake many women make is using their retinoid products too often. Daniela recommends using the two nights a week for a month and then adding a third night. Any more often and your skin may be red and irritated.
A – Antioxidants – We all know how important it is to consume antioxidants but it is equally important to apply them to our skin. These antioxidants fight free radical damage to the skin and increase your skin against the damage from the sun. 
Think about an apple, and how it turns brown when exposed. That process is called oxidation and it also happens to our skin. You can use lemon juice to keep the apple from turning brown, and likewise, you can use a Vitamin C serum to protect your skin in the same way. 
S – Sunscreens – Daniela made a statement when she was talking about sunscreens that I just have to quote here:
"If you don't have sunscreens in your regimen, it doesn't matter what else you're doing."
Daniela also shared that every dermatologist she has ever worked with recommends a broad spectrum, physical block of 30 or higher. The reason you must incorporate sunscreen every single day is that the UVA rays from the sun are aging. (Think A for aging.)
UVB rays are the ones that burn your skin when you're outside for longer periods of time, so a lot of us don't think we need to use sunscreen in the winter. But those UVA rays are doing their damage, even through glass. 
So, back to the evidence-based products, when you're choosing a line of skincare to work with, you want to be sure it has these 4 types of proven products in it. 
Skincare Isn't About Vanity
Yes, you want to look good and prevent wrinkles, but skincare is truly about protecting the largest organ your body has. Protecting your skin and preventing skin disease needs to be at the forefront of your decisions about your body. 
One of the problems that Daniela deals with is that people see this type of skincare as something that celebrities do. They dismiss it as "over the top." 
Daniela certainly isn't suggesting that everyone has to budget tens of thousands of dollars going to a spa every week. But she is saying that you need to figure out how to best take care of your skin and that it must become a priority in your life. 
She strongly recommends you find someone in your area who lives and breathes skincare and skin health. Find someone who you can identify with and who understands how you want to go about taking care of your skin. 
Products to Avoid
With thousands of products on the shelves, there is simply no way that Daniela and I could chat about all of them. She did, however, give us one thing to avoid and one to research:
Chemical sunscreens.

If you have a sunscreen that contains "oxybenzone," that product has been outlawed in two states and is a synthetic hormone. This product is doing great damage to our marine life all over the world. Daniela highly recommends only using a broad-spectrum sunscreen, which is a physical block. 
Parabens.

The whole world thinks that all parabens are damaging due to a study done in the '80s that has now been thoroughly debunked. Daniela recommends doing your own research and asking your aesthetician about the products you're using if you aren't sure. 
*Wanna know about coconut oil? Should you use it on your face? Listen in to find out!
My mission on this podcast is to educate you. I want you to be able to live from a place of empowerment, not fear. I want you to be able to choose the best products for yourself without depending on some influencer to tell you what to use. 
Daniela left us with one statement that I have to leave with you:
"When you buy your skincare products at Target or Walmart, millions of dollars have been spent to market that product. But when you buy your skincare products at a med-spa, day spa, or dermatologist's office, that money has been spent on testing the products.
Daniela shared so much helpful information in this episode and there is simply no way I could share it all, so be sure to listen in for all the goodies. 
If you are ready to start taking better care of your skin, there's no better time to begin.
There may be many layers of this onion that you have to peel back before you get to all the root causes. If you don't know where to start, I am here to help.
XO,
Amanda
Thank you for listening and reading lovely! How can you support this podcast?
Apple users, please

subscribe and review our show

on

Apple Podcasts

, we make sure to read them all. Android users, be sure to

subscribe

to our show on

Stitcher

. As a subscriber, you will get a notification each week a new episode drops! (man I love saying, "Drops").

Tell a friend

about The Feel Amazing Naked Podcast…they will love you for it! T

Join the Feel Amazing Naked Community (FREE)

.

I am in here LIVE each week sharing tips, cooking and talking all things confidence and growth.

Follow me

on my favorite social media platform,

Instagram

.

Share

using the buttons above and don't forget to tag me (@awalkmyway and @feelamazingnaked) when you do!