In this episode, I share 5 tips to help you create consistency in your fitness routine this year WITHOUT relying on motivation.  Yes…it's possible to be consistent and also not feel motivated all the time.  In fact, in order to create consistency, it is necessary that you let go of a co-dependence on motivation. I am joined in this episode by my coaching staff where together we share actionable steps to help you get consistent movement in 2022.
Motivation is

waiting until you feel like doing something before doing it.



We have a belief that you have to feel motivated to take action towards a goal.  Or that people who have something that we want or are always motivated to take action.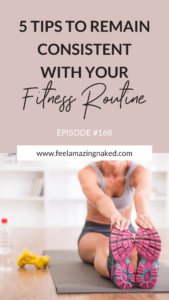 It's not true.  Motivation is a feeling that only lasts moments.  SO if we become reliant on it or codependent on it and then it isn't there…we are completely hosed!
So, what do we do in order to be consistent and not rely on motivation to stick with our fitness goals?  My team and I share the top 5 tips that will help you stay consistent in your fitness routine without having to rely on motivation to drive you all the time.
After you listen to the episode, let me know which tip resonated the most with you and how you are going to apply it in 2022 so you can have your best year yet!
You can also watch the episode here:
Ready to start 2022 with accountability and momentum?  Join the "F.A.N.-K" a 5k or 10K race to kickstart the new year.