SAVE YOUR SEAT IN MY "WHY DIETS DIE AND HABITS LIVE" WORKSHOP HAPPENING ON JUNE 29TH, 2019 BY CLICKING HERE.
There is so much talk about morning routine practices.  There is so much "you should" out there.  The only one thing you "should" be doing is to find the morning routine practice that works for you.
In my personal experience, establishing a morning routine practice has made a 180-degree shift in my life.  I believe in it so fully I spend time teaching and guiding women towards it in my Feel Amazing Naked Program (you can apply here).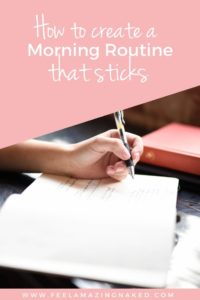 In this episode, I talk about the biggest tips I can share to help you create a morning routine practice that actually STICKS for YOU including:
Why I think starting simple and then make additions is key

Pick a few things and just focus on creating the habit FIRST
Why research supports morning routine practice
How you begin your day, the thoughts you have in your head will be what you manifest
How to wake up earlier to create the space for it
The brain will tell you it's hard–create new highways
Ideas of what might be in your morning routine
Why creating a morning or evening routine helps with weight loss, healthy living or any other goals you want to achieve
Be your own experiment
This is not an "overnight" success story.  This is why people don't stick with it. You hear me talk about habit formation all the time and this is why habits don't actually end of sticking–we quit too early, just as we are about to turn the corner!
My morning resources:
You do You Journal (Use my code FAN10 for 10% off too)
Your morning routine practice will evolve as your season of life changes and as you so what works for YOU.
I WOULD SO APPRECIATE IF YOU WOULD LEAVE ME A REVIEW AND SUBSCRIBE!
Have you subscribed to my podcast? If not, I would so appreciate if you would do that today. I don't want you to miss an episode. Click here to subscribe in iTunes!
If this episode really spoke to you,  I would be grateful if you left me a review over on iTunes, too. Those reviews help other people find my podcast and support other women to create their best life!  Thank you for sharing in advance!
XO,
Amanda