[Episode 006]
This week I am excited to have a fellow coach and business owner Dorit Palvanov as a guest on the F.A.N. show. Dorit is a mother of three girls, wife and an embodiment coach who helps mothers of daughters heal their hormonal imbalances and thrive inside of their female body so they can reclaim their divine feminine superpowers, become more resilient emotionally, learn to take better care of themselves, live with joy and purpose every single day and raise fierce, confident and healthy daughters as a result.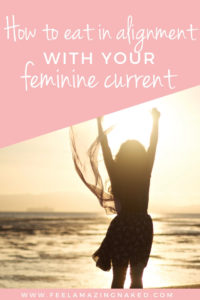 In this episode we dive into:
-Why life is analogous to a river
-What the feminine current is
-How to use the 4 phases of the feminine current to live a life of alignment
-How women can eat in greater flow with their "flow"
As Dorit talks about the cycle of the female current, I found it so useful to have a visual in front me of me to better understand.  Below is the "current" she speaks to during the interview.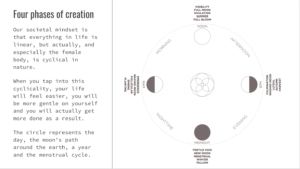 You can connect with our guest Dorit here:
Podcast: Health Begins With Mom Podcast
Closed FB group: Busy Moms Get Healthy
IG: @doritpalvanov
If you'd like to take advantage of her FREE Diva call you can visit and schedule HERE.
I'd love to hear from you…how do you feel about living in greater alignment with your feminine cycle?
XO,
Amanda