[Epsisode 020] How to meditate and relax with Shannon McSorley Funt
Are you working on overcoming the fear of the "M" word?
That's right meditation.
I am bringing on my friend and colleague Shannon McSorley Fun to talk about this "woo" topic that isn't so "woo" anymore.
Shannon is an intuitive life coach and meditation teacher… and a recovering over-thinker. After working in the finance and software industries for 20 years, Shannon traded in her analyst hat to pursue her passion – teaching mindfulness to kids. In her current practice, Shannon uses meditation, EFT (Emotional Freedom Technique, a.k.a. Tapping), Reiki, and guidance from her intuition, to help women and kids quiet their own over-thinking minds, find peace & joy in the moment, and reconnect with their inner voice.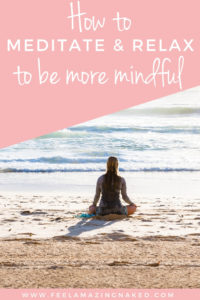 In this episode we chat about:
-Why people are scared of meditation
-Why there is no "right" way to meditate
-Shannon's term for meditation that makes it more approachable
-What EFT or "tapping" is
-Why looking at yourself deeply in the mirror is necessary for extreme self-love
Resources
Insight Timer
Big Leap by Gay Hendrix
Agape Steganalopiz Self Love
You can connect with Shannon here:
Click here for Shannon's "Sit With Your Damn Self" Series
Find her on Instagram as @shannonmfunt
Have you subscribed to my podcast? If not, I would so appreciate if you would do that today. I don't want you to miss an episode. Click here to subscribe in iTunes!
If this episode really spoke to you,  I would be grateful if you left me a review over on iTunes, too. Those reviews help other people find my podcast and support other women to create their best life!  Thank you for sharing in advance!
In amazingness,
Amanda