If I've learned one thing from this week's guest, it's that I am better today because I am unafraid to invest in myself.
She's helped me up to level my life, my business, and my parenting in ways I didn't expect.  She's helped me show up for ME in a BIG way.
I'm forever grateful.
Heather Chauvin is the creator of the Mom Is In Control Podcast, a mostly solo show where she tells it like it is. She reveals her most vulnerable truths about womanhood, parenting her 3 boys, living through stage 4 cancer, navigating marriage and creating business success without burning out.
With new podcasts every day, Heather draws on her experience as a former Social Worker, mental health advocate, and inspirational speaker, giving women permission to live more, drop the guilt and ask for what they need.
Heather has been featured on The Huffington Post, The OWN Network, CTV, Real Simple Magazine, The Jenny McCarthy Show and interviewed by many notable podcasters and radio shows.
Her motto is in order to raise happy, calm and confident children, we must become the person we most desire them to be.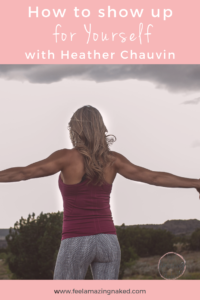 In this episode we dive into:
-Why we "hustle" to become the person we want and it can lead to "soul death"
-Why we learn from the "shit" moments and if you don't have them, create them
-Why we avoid being uncomfortable and how much we do to feel comfortable
-Position yourself to have to say yes
-Why our brain will also seek to protect itself from change
-Why self-sabotage sets in and why we must face it with truth to overcome it
-The sustainable ambition theory (this is freakin' awesome) and how we must get out of the constant "survival mode"
-Why YOU are the only one responsible for your change
-We teach people how to treat us
-My greatest fail in business that leads to my greatest shift in business
-Ask for what you want in your life
Resources:
Listen to Heather's Mom Is In Control Podcast HERE
Watch her TEDx Talk "Dying To Be A Good Mother" here
I WOULD SO APPRECIATE IF YOU WOULD LEAVE ME A REVIEW AND SUBSCRIBE!
Have you subscribed to my podcast? If not, I would so appreciate if you would do that today. I don't want you to miss an episode. Click here to subscribe in iTunes!
If this episode really spoke to you,  I would be grateful if you left me a review over on iTunes, too. Those reviews help other people find my podcast and support other women to create their best life!  Thank you for sharing in advance!
XO,
Amanda