In this episode, I share my favorite 5 business reads of all time that have impacted me both personally and professionally.  Reading was not something I LOVED growing up.  I only read books when they were required by a teacher or professor.  Now, I realize I missed out on so much amazing imagination and learning growing up.  Consequently, I am now an avid reader as an adult and have been highly impacted by the books I share in this week's episode.
I also talk about a new 1:1 coaching offer I have opened up called Business In A Day.  If you want to chat more and see if it is a great fit for you, click here to book a call to chat.
Here's a quick look at the episode and my top 5 favorite business reads:
Click here for the my newest FREEBIE: 10 Powerful Questions Every Coach Should Know
Listen to the full episode on iTunes.
I'd love for you to rate and review the podcast.  You can click here to get to Apple Podcasts to leave your review. I will be oh-so grateful to you. Plus, we are adding amazing episodes to the show, so when you subscribe you won't miss a beat.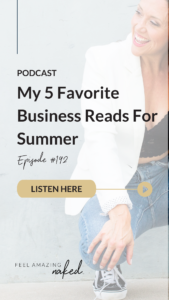 Interested in working with Amanda or learning more about her programs?  Click here to book a time to chat.