Learning to love your body might feel like an impossible goal.  Watching us evolve, age and change often add a layer of disconnect and grief in the process.  In this episode, my guest, Dr. Morgan Francis, Doctor of Clinical Psychology, and a Licensed Mental Health Therapist, gives powerful tips to love your body without having to lose weight.  We also take a really amazing detour into the vocabulary we use around our children with regard to food and body.
Showing our children that we own our own bodies and appreciate them will help our children see the importance of treating their bodies with respect.
Some of the positive things we can say about our bodies in front of our children include phrases like: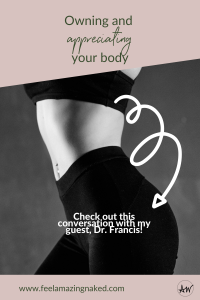 I feel ____ when I workout.
I am working on feeling more confident in my clothes and appearance.
This food makes me feel ___.
Dr. Morgan Francis offers great tips on how to love the body you are in. She is a Doctor of Clinical Psychology and a Licensed Mental Health Therapist. She is the owner of Scottsdale Premier Counseling, in Scottsdale, Arizona. Her mission is to break through the mental health shame game. Dr. Francis is a mother to three children ages 7, 6, and 4 years old and resides in Scottsdale, Arizona with her husband of ten years.
Join Dr. Francis and me as we break it down so you too can own and appreciate the skin you are in.
For more information about Dr. Morgan Francis, be sure to visit her website at: https://www.scottsdalepremiercounseling.com/  
You can also follow her on Instagram @drmorganfrancis