In this episode, my guest Heather Chauvin and I talk about how to be confident in parenting teens. Heather is a TEDx Speaker, Author of Dying To Be A Good Mother, and host of a highly loved Podcast "Emotionally Uncomfortable" with over 6 million downloads. She is a leadership coach who helps 'successful' women who are ready to courageously and authentically live, work, and parent on their own terms. Together we chat about how to create a safe space for your teen to share, how to help them be seen and heard, and how to set boundaries while still allowing them space for self-discovery.
Heather started her career as a social worker helping adults understand children's behavior. But it wasn't until her stage 4 cancer diagnosis in 2013 that pushed her to take a deeper stand for change, uncovering how cultural expectations sabotage our dreams. She has been featured in Forbes, Entrepreneur, Real Simple Magazine, Mind Body Green, Google, and more.
When Heather isn't working, you will find her living out what she teaches which may include kayaking Alaska, hiking, or anything else that challenges what she believes is possible for herself (and inviting her children along the journey). Life is full of opportunities. It's time to feel alive.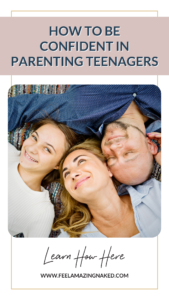 We chat about how to allow yourself to grow as a woman, while also holding space in your business too. And then throw in being a mother of teenagers as well.
Heather outlines some basic points to help:
The story that the teen years will be the hardest.  I am trying to unconsciously reject it. We chat about how to reject society's thoughts about who you should and should not be as parents.

Fear: they will have questions and won't come to me. How to create the space for them to come to you with any questions and not be afraid.  Empathy is such a powerful part of being a listener in parenting and creating a safe space for them to come to you.

Additionally, can we talk about phone boundaries–what is too much and what is not enough? What are some tips on how to handle this? 
For anyone who is a parent, this episode will provide great insights into how you can manage the teenage years with grace.
For further pointers, you can follow Heather on Instagram @heatherchauvin_ or learn more at her website: www.heatherchauvin.com
You can also catch this week's episode here: