In this week's episode, we talk about tips to connect the hats of parenting and entrepreneurship together, about schooling, and raising leaders.
As both parents and entrepreneurs, it might often feel like you are being pulled between two worlds.  It might even feel like there is a "this" or "that" option between being a present parent and building a giant or small empire.  This week on the show my guest Liz Hartke and I talked about how to reframe parenting and entrepreneurship as two separate worlds and instead create a collaborative journey as a family.  Liz is the creator of the Luminary Leadership Co., a company that nurtures not just entrepreneurs but also their families. 
Elizabeth Hartke talks about raising leaders in our own families. How we can be an example to our children and others to help them expand into their own leadership talents.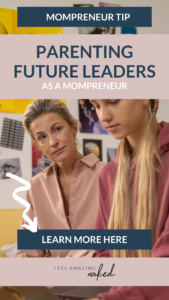 For the past 10 years, Elizabeth and her husband have focused on how to grow their business. Afterward, they started to notice that the leader would be capped by the own "ceiling" they created for themselves.
So, they shifted that mindset.
If you are a parent and entrepreneur, this episode is for you!  Liz shared some simple tips to help parents raise leaders in their children.
You can learn more about Liz here:
You can also catch this week's episode here: