Studies show evidence that the key to living a long and happy life are positive relationships. No matter what your goals in life are, relationships are and will be a part of it.  They weave into every crevice of life.  In this episode, relationship expert and master coach Aimee Gianni shares more about how to create happy and connected relationships. She also breaks down the most common patterns in relationships and what to do about it. 
Aimée Gianni, MS, is a Marriage & Family Therapist, and a Master Coach Instructor specializing in Relationships & Health and the connection between the two. Her goal is to help her clients create loving relationships and vibrant physical health. Aimee is the co-creator of "The Coaching Collective" where she helps coaches create values-based businesses on their own terms while improving their coaching skills. She also offers Advanced Relationship Trainings.
There are so many different types of relationships. What relationships do you need to foster for building happy, connected results?
Aimee helps break down how bringing awareness to the cycles you have within your relationships can begin to shift things. As a result, you can start having the happy, connected relationship you have always desired.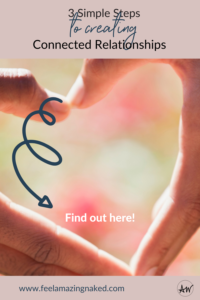 Relationships are all around us:
Friends
Partners
Co-workers
Parents
Children
Above all, each relationship is unique and might require unique approaches to keep those relationships happy and connected.
The important thing to remember is that in each relationship, we need to let people be themselves and we need to make space for us to be ourselves.
"We create so much of our own stress by the way we think about things." -Aimee
As humans, we tend to take on the feelings of others.  Overthinking and analyzing how people might perceive us. Or think we have to take accountability for how another person feels.
If we learn how to shift our thinking and focus on our own accountability, that will create space for us to foster healthy relationships.  Shifting to focusing on our own thoughts, feelings, and actions can be powerful.
Likewise, getting clear on who you are and what you want can provide a lot of clarity to help strengthen relationships.
Check out this week's episode as Aimee and I talk more about creating happy, connected relationships:

Are you ready to take your idea and build a profitable business, but have no idea where to start?  Our next cohort of the Feel Amazing Naked Business Accelerator starts NOW.  For more details, visit: www.amanda-walker.com/business/
You can learn more about Aimee Gianni on her websites: www.aimeegianni.com/  and TheCoachingCollective.com