In this week's episode, my guests Veronica and Sonnet chat with me about the internal work necessary to show up for our children and the unspokens and unsaids that come along with becoming a mother.
Motherhood does not come with a playbook and some days…it feels completely overwhelming. It often leaves you asking the question, "why didn't anyone tell me this?"
Veronica Frieling and Sonnet Simmons are the hosts of the "Not Your Mother's Podcast" and co-creators of the parenting online course "Raising Children You Like" with Bryana Kappa. Two long-time friends who became new moms at the same time, they kept asking the question, "Why doesn't anyone tell you this about motherhood?"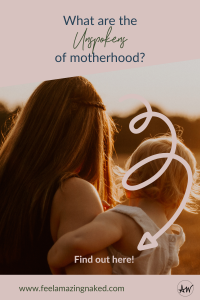 So, they set out on a journey to find answers to the unsaids and unspokens in motherhood by interviewing experts in areas like:
sex after baby
female body
postpartum
marriage
childhood development
and SO MUCH MORE!
As they have interviewed experts and gained knowledge, they share it with others on their podcast. Something that was interesting for me from our conversation was this little gem:
Becoming a mom…is a journey of being a human.  It's holding a mirror in front of you and seeing a reflection of all the work you need to do.
Becoming a mother doesn't prepare you for the inner work you will have to do to raise children. Motherhood is about more than just raising children. It's about raising good humans.
Motherhood will make you confront the parts of yourself you know need work and will challenge you to be that person so you can show up for your children.
Follow along with Sonnet and Veronica's amazing work: http://notyourmotherspodcast.co
Instagram: @notyourmotherspodcast.co
Library of their toddler classes: https://shop.raisingchildrenyoulike.com/