[Episode 021] Why finding the ROOT CAUSE brings lasting success
Check out the good stuff happening in the F.A.N. world here:
I had been nursing an injury for months.  I'd ignored it, buried it, covered it up and put it at the bottom of my to-do list.
I ignored the root cause and the body responded by sending in the troops to protect it.
When something is wrong the body seeks to send its own band aide in which isn't a permanent form of healing.
Eventually, though that doesn't last and you have to do the hard work to figure out what is happening to heal it.
You have to go back and relearn the most basic fundamental habits of success.
In the end, it's about finding what approach works for you and a big GIANT willingness to assess the root causes of what is keeping you from finding that thing that works.
And that's my jam as a coach…finding out the REAL reason you aren't getting what you want.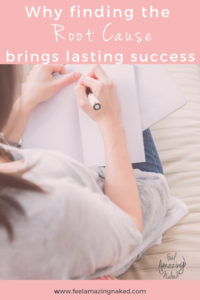 In this episode, I share 3 client examples that example why getting to the real cause is key to true behavior change
-Client 1: putting the cart before the horse, focused too much on food and not enough
-Client 2: Overcoming emotional flooding to stop pantry binging
-Client 3: Overcoming a 1200 calorie mindset and the less is more mentality  
Have you subscribed to my podcast? If not, I would so appreciate if you would do that today. I don't want you to miss an episode. Click here to subscribe in iTunes!
If this episode really spoke to you,  I would be grateful if you left me a review over on iTunes, too. Those reviews help other people find my podcast and support other women to create their best life!  Thank you for sharing in advance!
In amazingness,
Amanda