Do you find yourself saying I don't know what to cook? Or I don't have time to cook?  Perhaps you get so overwhelmed, you just give up?  In today's episode, I share 7 simple meal planning hacks that will simplify the meal planning process and let it not feel like rocket science (because who has time for that?!?!)
I am also so excited to share the release of the new Feel Amazing Naked Meal Planner.  It's a step-by-step meal planning system that will help you get hours back in your life and feel amazing in your body.
You can learn more about it here.
Meal Planning can feel overwhelming, but it doesn't have to be.
If you're already overwhelmed between juggling family and your career/business, and the last thing you want to do is: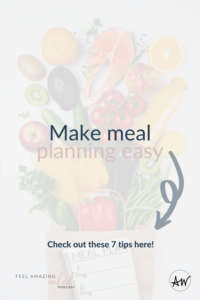 I am sorry, Pinterest lovers—I am gonna be real with you.  The viral titles that claim "healthy protein-packed meals" are not always the case.  Instead of simplifying your life, Pinterest sometimes take you down a rabbit hole of meal ideas that leave you right back where you started.
Here are 7 hacks to make meal planning just like it is meant to be…EASY.
Before you toss all your frying pans out the window…
I have a better way.
Keep it simple: include protein, carb, fat and veggie.

Label your nights and plan around your life.

Double prep dinner.  It doesn't have to be a 5-hour routine.

Plan and create a grocery shopping list at the same time.

Get family buy-in.

Build-in leftovers nights.

It's okay to buy "done for you" ingredients.
Let's make meal planning easier on all of us!  Check out this week's video as I break down the 7 simple hacks to make meal planning easier:
And if you want a really amazing tool to help you prep and plan, check out my new Feel Amazing Naked Meal Planner here.
As a wife, mom of two, and an entrepreneur – I used to attempt overcomplicated meal plans and fail, every.single.time.
Introducing the Feel Amazing Meal Planner.
Get ready to shatter everything you believed about meal planning, and welcome in a simple & exciting way to meal plan that brings harmony to your heart and household (and helps you feel amazing in your skin!).
Inside, you'll discover:
→ A headache-free planning system that nourishes and uplifts you.
→ An easy approach to creating a balanced plate (it's really not rocket science!)
→ A simple, fill-in weekly meal planner that you'll actually use.
→A delicious library of my favorite healthy, easy-to-make recipes.
successful weeks = successful years = a successful life
BONUS: Be prepared for when you don't have a plan (I give you 10 emergency ideas that are thrown in the pan and cooked).  I always have 2 of these on hand for "just in case" nights when I am tempted to order pizza or just would rather do one of those.
You can grab the planner right here.