[Episode 010] 
How to create a fitness routine that lasts
You can grab the workouts I mention in the podcast HERE.
Keeping an active lifestyle is a necessary component to feeling amazing naked…but it isn't easy.
I get asked often…
"How are you so consistent?"
Truth is, it's become part of my identity.  I love how amazing it makes me feel that I don't want to feel any other way.
Just like food, there is not a one-size-fits-all approach to fitness.  So many different things work to produce the same outcome. Research supports that!
I am going to leave the research to those experts in the field. I do have favorites that I love to follow like Alan Argon, Bret Contreras, Andy Galpin, and Sohee Lee.  I highly encourage you to follow them to learn more about what "science" says about fitness and nutrition.
I am going to focus on what I think is the harder bar…making the workouts actually STICK.
What works best for you is finding something you love and that you will stick with!
I want you to create a routine/a system so that your fitness regime becomes part of your identity.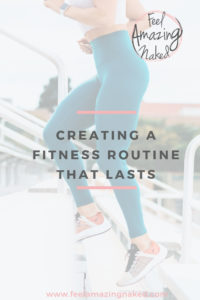 In this episode we dive into:
5 Tips to help you create a fitness routine that lasts

Why you need to focus on systems over goals to establish a fitness routine

How to create an environment for success…that does mean your physical environment but also your self too.

How to shift your mindset into actually believing you are an "athlete," or "runner" or "insert your goal identity here"

Why done is better than perfect when it comes to creating a fitness habit
Fitness is an evolution and a process..enjoy the ride!
If you struggle with squeezing in workouts some days, grab my 30 Easy at Home Workouts HERE.  It also includes a library of videos and modifications AND I am throwing my meal prep guide in as a BONUS.
Things I mentioned on the podcast:
Renaissance Periodization Templates (for a more experienced lifter)
You can grab the workout guide I mention on the podcast HERE.
Books Mentioned:
In amazingness,
Amanda