Wow!! I've been coming to your favorite podcast player for 100 episodes! In this episode, I want to celebrate those 100 episodes with you, and take you on a little journey with me. But first…
Celebrating 100 Episodes with a Giveaway!
Did you hear that new intro? I hope you love the new website redesign and the new podcast artwork. 
After 100 episodes, and because I have recently made the decision to expand my business to not only women who want to get healthier physically, but also women who want to get healthier by starting their own business, I thought it was time to freshen things up a bit. 
And I also think it's only fitting, since we're celebrating 100 episodes, to do a proper giveaway. I will say, supplies are limited for this, so get yours now while they last! Here's what you need to do:
Leave a review for the podcast.

Head over to your podcast app of choice and leave a few words telling how the Feel Amazing Naked podcast has impacted your life and what changes you have seen because of it. 
Share the podcast.

Share your favorite episode or the podcast as a whole with a friend through texting or in an email. Or share the podcast on social media. 

Email me!

Screenshot your share or review and attach it to an email to

support@feelamazingnaked.com

and be sure to include your mailing address in the email. 
We will send mugs to as many of you as we can until we run out! Thank you for helping change more women's lives through the Feel Amazing Naked podcast!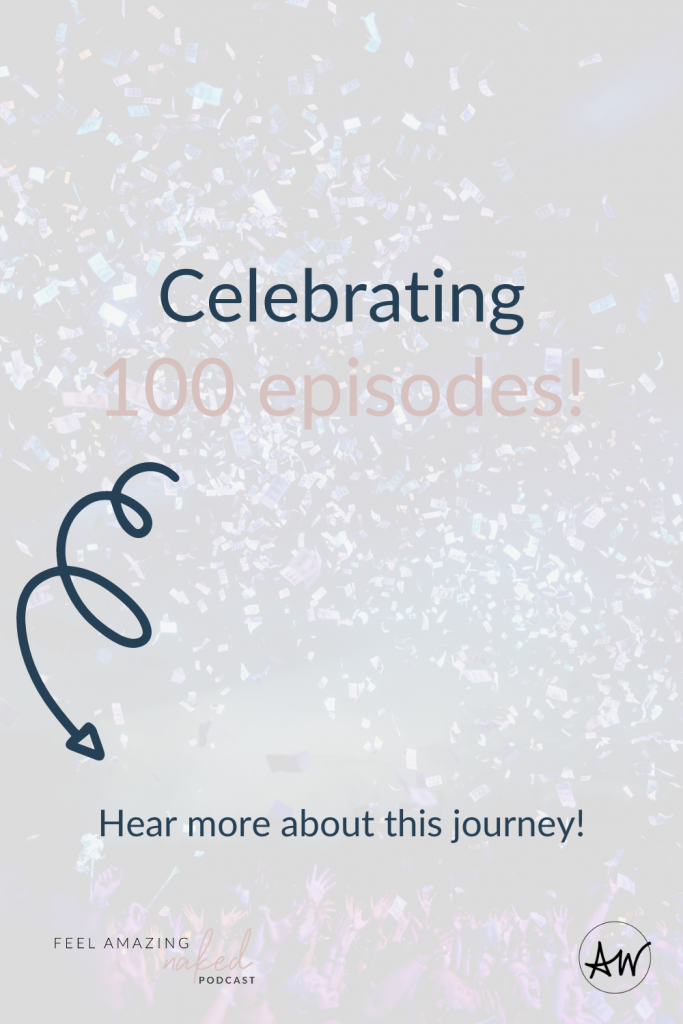 Where Do I Start?
If you are at the beginning of any kind of journey, you may have already had the thought, "But where do I start?" 
And I get it! Back in 2018, when I made the decision to start this podcast, I was scared and I had no idea where to start. I was afraid to pull part of my focus off of my clients, and I knew absolutely nothing about podcasting. I didn't know what I needed to purchase or how the technology worked. 
If that's you…if you're at the beginning of a journey, whether it's toward better health or starting a business, or maybe you want to start a podcast of your own…just remember, taking messy action wins every time.
There have been so many times on this podcast where I have said the wrong words, stuttered over my words, cursed too much, or messed up somehow. But what I have done right is I have been consistent. 
I don't let the mistakes stop me from doing what I know I am meant to be doing. 
FAN Milestones
Here we are, 100 episodes in, and I'm feeling pretty great. I'm proud of the fact that for 100 weeks, I have shown up here for you, without missing a single week. 
And I'm proud of you! I hear from so many of you about how the podcast has motivated you to seek better health, physically and mentally. You've been challenged to start a business that you had only dreamed of before listening. 
I am so grateful that you share what the podcast is doing in your lives and I thought I would share a few milestones with you from my side of the mic. Feel Amazing Naked has received:
Several hundred 5-star reviews
Thousands and thousands (and growing) of downloads 
Messages from listeners telling me how much a particular episode helped them
So, if one of the episodes really spoke to you and met you where you were, please screenshot it and message me. There is literally nothing I love more than hearing from you about the changes you are making and how you are being challenged through the work I am doing here at Feel Amazing Naked. 
Shout Out to My Team
When I started this podcast, my team was comprised of 3 people, known as me, myself, and I. 
I knew I wanted to grow a team eventually, and it still shocks me to realize that I now have a team of 7 people who work with me, hold me accountable, and who make this podcast possible. I wouldn't be here, celebrating 100 episodes, without the people who believe in me and my mission. 
First up is Steve. Steve is a brave soul, as he is the only man in the mix. Steve is my tech wizard, responsible for editing the podcast and getting it ready for you to listen to. He is also responsible for keeping me on schedule. Thank you, Steve!
Anjilee has been here the longest after Steve. Anjilee is my virtual assistant and I depend on her a ton. She handles a lot of the communication inside my coaching program, she creates images for the show, she communicates with the guests, and she helps to keep me on track. Anjilee takes on a lot of tasks that allow me to stay in my zone of genius. I am so thankful for you, Anjilee!
Next up is Tina. She is my project manager and the glue that holds the team together. She helps oversee all the projects I have going on at any given time, she creates workflows so that my team can communicate with each other, and she keeps me updated so that I know where we are headed at all times and which step of which project we are on. Thank you so much, Tina!
My mom handles all the financial work for my business. Although she isn't directly involved with the podcast itself, without her expertise and management of the financial aspect, I would never be able to do all the things I do. Plus, I'm just so blessed to be able to have my mom working with me. Mom, I love you! Thank you for everything you do to support me!
If you know anything about online business, you know that Pinterest is a huge player in this game. There is no way I could do what I do and manage my Pinterest account, so I am especially thankful for Lenora who does that for me. Lenora, thank you for all your hard work of sticking through all the crazy algorithm changes and for keeping my Pinterest consistent! 
Dawn is our SEO writer. If you're reading this blog post, you are seeing what she does. (Hi, ladies!) Dawn takes my episodes and turns them into blog posts that help the Feel Amazing Naked podcast get seen in Google results, so that even if someone doesn't listen to podcasts, they can still benefit from the information I am putting out there. Dawn, thank you for making these posts read just like I sound on the podcast!
And lastly, I am so excited to announce that my coaching team is expanding! I can't clone myself, but what I can do is bring on more people who are passionate about helping me support the ladies in the program. Courtney is the newest addition to the team and I am super excited to grow in this area. Courtney, welcome!
What Do I Share to Celebrate 100?
When I was thinking about what I wanted this episode to be like, I decided to ask some of my clients what they would want to hear in the 100th episode and they gave me some great ideas. 
So, in addition to thanking my team, I went back and pulled some of my favorite clips from previous episodes. This montage is made up of some of the most downloaded, most talked-about moments of the previous 99 episodes. 
I am also going to answer a few questions that you all submitted, and as a special treat, my own two babies will join me to give their thoughts on their mom owning a business. I hope you will take the time to listen to the montage and the Q&A. 
Keep reading for links to the guests and episode numbers for everyone included in the montage. But first, let's get to some questions!
Q&A with Amanda
Q- What does your daily schedule look like, from waking to going to bed?
A- First of all, my wake-up and bedtimes are non-negotiables for me. Listen, I need sleep and I don't function without it, so I wake up at 5 and go to bed by 9:30. Every. Single. Day. 
My morning routine is what I attribute the majority of my success to and I recommend you have one, too, if you want to experience success in any area of your life. However, it doesn't have to look exactly the same every day. 
So, I wake, chug water, make coffee, and meditate while the coffee brews. Then I journal. When I finish journaling, I read 10-20 pages in my latest book. I then get into answering emails for about an hour before the kids wake up. 
Like most of you, my kids are currently doing school at home. I've had to shift my mornings around a good bit to accommodate this like I'm sure you have, as well. I take client calls in chunks of time a few days per week, and instead of heading to the gym after dropping the kids at school, I have to fit that in at other times here at home. 
Tues-Thurs are the days I have set aside to accomplish the majority of the work I need to do for my business. I leave Mondays and Fridays more open so that I can mostly spend them with the kids. Owning my own business allows me to set my schedule to fit my life rather than the other way around. 
After school and work, we work on dinner or travel to their various sports and activities, before they get tucked into bed around 8:00. Then, it's time with my husband before heading to bed myself. 
Q- What are you most proud of?
A- Like any mom, my automatic answer is, my kids. But more than that, it's those moments when other people tell me that my children are confident and kind, that their hearts are exposed and they are independent. 
Sometimes it's hard as parents to know whether we're doing things the right way. All we can do is follow our intuition and see the results in our children. Moms are under so much pressure, so whenever anyone tells me that my kids are amazing, that's when I feel most proud. 
Q- When did you move? And why?
A- Justin and I always had a dream of owning and living on a larger piece of land. We owned a piece of land early on but had to let it go. The dream seemed to fade a bit but we never really let it go. 
Last year, we made a list of everything our dream place would have and what do you know? An opportunity presented itself and here we are. The new place has a shop for Justin's custom knife-making business, as well as everything we dreamed of in a home.
We believe that if you want your children to take risks and go after what they want, you have to do it first. 
Q- What are your favorite meal prep ideas?
A- I am not the person who scours Pinterest for fancy recipes or complicated meal plans. I prefer a more simple approach. 
I create all of my meals from the vantage point of protein, fat, carb, veggie. I send my clients some specific resources to help them see how simple this can actually be. I don't think we need more recipes; what we need is to follow through on the plans we already have. 
I hear so often that "eating the same thing gets boring" but I call BS on that one. Consistency and simplicity are the tools to get you where you want to go. 
Some blogs I do love to recommend though are:
Also, if you aren't currently following me on Pinterest, you should be! I pin tons of amazing recipes and I break them down into different boards on my Pinterest account. 
Q- What do you do for workouts? 
A- I am currently maintaining my fitness and I am not trying to reach any big goal, fitness-wise. I suspect that in the near future, I will start training for another half or full marathon but right now, I am doing a few different things. 
I am lifting weights 2-3 times per week. 
I love the way I feel when I lift heavy and focus solely on that for 2-3 days per week. Then, 2 more days, I Crossfit. I do love Crossfit but I have learned the hard way that I can't do too much of the HIIT workouts. I need a combination of workouts to feel my best. 
The other 2 days that are left after weights and Crossfit, I usually do some type of steady-state cardio. Some days I run, some days I ride my Peleton. 
I only work out 5 days per week and I take definite rest days every week. It feels amazing to be at a place where I can simply maintain instead of striving for some huge fitness goal. 
Thank you to those of you who submitted questions. I want to move on now to my little chat with my precious children. Listen in as I ask them questions and get their honest, unfiltered answers. I hope you enjoy it. 
And now, on to my special montage clips and guests, in no particular order:

What Does the Future Hold for Feel Amazing Naked?
And now, what's coming for the Feel Amazing Naked podcast and program? I've been doing a lot of deep thinking and soul searching on that subject and I want to share my thoughts and plan with you. 
First, if you've ever thought about working with me on your health goals, now is the time! We are running a very special, limited-time promo right now where when you sign up for 6 months of coaching, you get an extra month absolutely free. 
Now is the time to take that messy action. Get your information in today so we can get started on your transformation!
In addition to coaching ladies through their health journey, I am also growing the group of ladies that I am guiding and coaching through growing their own business. I am so excited about this group that began with 10 ladies and is now a strong community in its own right. 
If you have an inner passion that you want to turn into a business but you don't know where to begin, please reach out to me and consider joining my Inner Circle. I love one-on-one business coaching, as well as gathering with the ladies in the Inner Circle as a group every other week. 
You can find out more information about the Inner Circle by emailing me at support@feelamazingnaked.com. Is there a better way to contact you for this?
As far as the podcast goes, it is also continuing to grow. I now have more people asking to be guests than I am inviting, and that's always a great feeling. 
Over the next 100+ episodes, I promise that you will be challenged, encouraged, and motivated to work harder, practice better self-care, grow in your personal life and your business, and finally achieve the success you've long wanted. 
So, what is your next step? Do you need to get your health in order? Is it time to step up to meet those goals? Or maybe you're ready to fan that flame inside into a business. Whatever your next step is, I'd love to come alongside and help you achieve it. 
There may be many layers of this onion that you have to peel back before you get to all the root causes. If you don't know where to start, I am here to help.
XO,
Amanda
Thank you for listening and reading lovely! How can you support this podcast?
Apple users, please

subscribe and review our show

on

Apple Podcasts

, we make sure to read them all. Android users, be sure to

subscribe

to our show on

Stitcher

. As a subscriber, you will get a notification each week a new episode drops! (man I love saying, "Drops").

Tell a friend

about The Feel Amazing Naked Podcast…they will love you for it! T

Join the Feel Amazing Naked Community (FREE)

.

I am in here LIVE each week sharing tips, cooking and talking all things confidence and growth.

Follow me

on my favorite social media platform,

Instagram

.

Share

using the buttons above and don't forget to tag me (@awalkmyway and @feelamazingnaked) when you do!